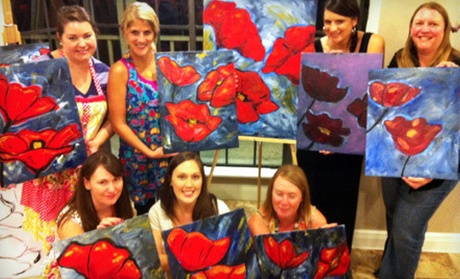 I think it's important, if not absolutely crucial, for every mom to be able to tell her child, "I love you so much that I'm going to have a night out with my friends and enjoy myself." Most moms laugh and roll their eyes at me when I say this in one of my parenting classes, but I'm not joking. I'm dead serious. It's important to our overall health as women that we stop thinking that a "good mom" is one who never takes time to herself. Our children need to learn that mom needs time to reenergize so she can take even better care of them. I think that's why I've completely fallen in love with Austin Moms Blog. This blog is such a great resource for moms, but it's also about connecting moms with other moms and creating friendships between like-minded women.
On Wednesday, April 23, Austin Moms Blog is hosting a moms night out at GeeBerry Art Studio off Bee Caves Rd. in Westlake Hills. This art studio is unlike any other, in my opinion. It's owned by one savvy, very talented entrepreneur who comes up with the paintings her clients do, all on her own. She likes to have clients paint what's hot and says she gets inspiration from places like West Elm, Anthropologie, World Market, and Pier 1. She paints every piece herself, which is different than a franchised art studio, and she teaches her guests how to paint the pieces, but encourages creativity and self-expression as well. Gosh, I'm not even an artist, but sitting in a cozy room with a glass of wine in my hand, painting sounds so relaxing to me.
True to form, Austin Moms Blog has prepared swag bags full of goodies for this event from places like Urban Betty, Barre3 (free pass classes), Crane-USA (humidifier), EarthMamaAngelBaby Organics, Fairy LiceMothers, Boom Chicka Pop (everyone gets popcorn!), Blooming Pregnancy Spa & Imaging Center, Embellish Nail Salon (Pedi's for Pair a $70 value) and The Purple Fig (2 hour home cleaning)! More swag is showing up daily and the giveaways just won't stop! Here's the lineup.
We are in the process of securing our food and wine vendor and will be updating you all as those details become available! In the mean time, we are excited to announce Miles of Chocolate will be providing the sweets!
Also, we've partnered with Safe Place Austin for this event which is a shelter for women and children suffering from sexual and domestic abuse. They provide a 24-hour hotline, emergency shelter, hospital accompaniment for sexual assault exams, programs for teens, community education, supportive housing, and legal counsel. Visit www.safeplace.org to learn more. Currently, they're in need of baby items such as diapers (size 3-6), bottles, baby oils, powders, lotion, soaps, and baby toys. Austin Moms Blog would love your help collecting these supplies by bringing them to the event to donate to Safe Place. The items you bring will earn you extra raffle tickets towards giveaways. Help us support this amazing cause!
Because of the size of the venue for this event, space is limited! Get your tickets here for "Paintress Night Out" at GeeBerry.
Will we see you there? We are offering up a free ticket to come join in on the painting fun!

Want to get in on the action and help us decide what to paint on April 23rd? Comment below with your favorite image and the winner between comments here and on our Facebook page will win!
Vote Now!