Whether you're in the middle of a nursing marathon, stuck on the couch with your newborn baby who wants to eat every hour on the hour or playing human pacifier to a sick little one, then you know just how boring breastfeeding can get sometimes.
If it weren't for my arsenal of junk TV I had queued up in advance, I'm not sure how I would have survived those early days of maternity leave that were spent almost entirely couch-bound and latched on. And even when I wasn't perm-attached to a tiny human all day long and actually had a spare moment during the day… you wouldn't find me doing dishes or laundry, because all I wanted to do was sit on the couch and do NOTHING. By myself. With ice cream. And a trashy TV show.
If you can relate (or if you're expecting!), then you're going to love our list of the top binge-worthy shows to help you beat the breastfeeding boredom once and for all.
1. Call the Midwife: I stumbled upon this when my son was 2 weeks old, and HOLY EMOTIONS.  You'll cry every time a baby is born, you'll cringe every time there are birth complications and you'll laugh at the old-fashioned antics of the young midwives.  It's a fairly new show, but all 33 episodes are on Netflix.
2. The Good Wife:  If you need a shot of girl-power straight to the arm AND appreciate campy political drama, then you're going to love this show.  This show has everything:  scandal, good shoes, political intrigue, love triangles, handsome men and Mr. Big.  There's a whopping 133 episodes available on both Hulu and Amazon Prime.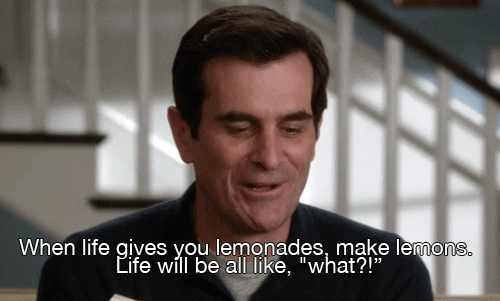 3. Modern Family: This show is perfect for those times when you just can't handle an hour-long show (maybe the baby is having a bout of blow-outs every 15 minutes, or your brain is just too dead to even handle anything that isn't a sitcom).  Even if you've seen them all already, you'll still laugh your mesh-panty-wearing-butt off.  Only recent seasons are available on Hulu, but you can buy them all on Amazon Instant if you must!
4. Parenthood:  This show will suck you in, make you feel like a member of the family, and then spit you out in a sobbing yet strangely happy pile on the floor.  This show is REAL parenting- it will make you feel like a good mom even amongst your shortcomings and unbearable family drama because after all… you're normal just like the Bravermans.  103 episodes on Netflix will have you falling in love.
5. The Affair:  Oh my goodness, ya'll.  This is one you'll definitely want to watch ALONE (baby attached to boob doesn't count), because it would be hella awkward to watch with the hubs.  This is one scandalous and steamy show, but its also really fun to watch because it's filmed from multiple perspectives and flashes forward to an unsolved murder case that is intertwined into the story.  Just get the Showtime subscription on Amazon or Hulu and indulge a little already.  Oh and also: Josh Jackson (Pacey!!).
6: Orange is the New Black: One way or another, we can all relate to Piper a little- which is partly why this show is awesome to watch for hours at a time.  It's also super funny, as you'd expect of any situation where you lock women of varying backgrounds and personalities up together for extended periods of time.  The characters are comical, their backstories are entertaining and the plot shockers are a dime a dozen.  Good, quality Netlifx binging here.
7. Law & Order: every single one of them. This show is the never-ending pit of episodes, so starting from Episode 1 makes it almost like running a marathon (except you're not running at all but you're wearing pajamas, sitting on the couch and eating snacks).  Take your pick from the O.G. Law & Order with its crime-busting detectives, to Criminal Intent solving freaky cases, or everyone's favorite: SVU.  There's a flavor for everyone, with over 1,000 episodes between them.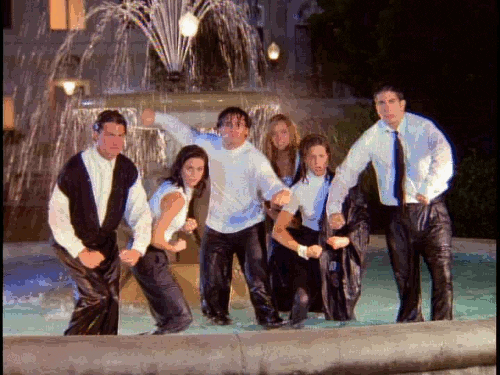 8. Friends.  Step into the wayback machine and relive those younger pre-baby days.  This show will give you a brief respite from today's reality, and take you back to a time when cheesy jokes were hilarious and all your best friends either lived with you or across the hall from you (because we all had that happen, right?).  Like Modern Family, the short episodes are perfect for the more chaotic days where you can't devote more than 20-minutes at a time. 236 episodes are waiting for you, all on Netflix.
9. Downton Abbey:  Let's not sugarcoat this; this show is a soap-opera disguised behind affluence and english accents, set in the past.  What's not to love?!    Immerse yourself in the British social hierarchy of long gone, savor the snobbery, poshly gasp at the shockers and scandals, and find yourself relating to both the 'upstairs' family and the 'downstairs' family all at once.  Its final and sixth season is currently airing, so now is a perfect time to catch up on Amazon!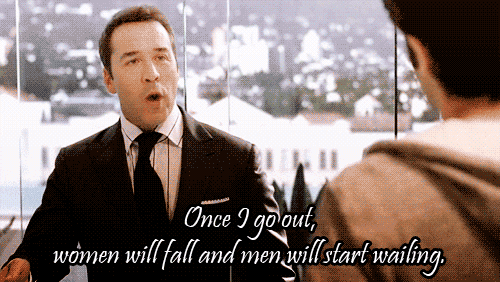 10. Entourage:  For those times when you really need to escape your own reality, this show does the trick.  Watch a group of young, stupid dudes make it big – then lose it all- repeatedly in Hollywood.  The plot is all over the place, and it gets pretty ridiculous pretty often.  Nope, you likely will NOT be able to relate with their incessant partying, poor life choices and high-roller lifestyle.  And that's precisely the point.  If you have the HBO Now/Go app, go ahead and throw this one into the queue for when you just need some good old fashioned trash TV.
11. True Detective: buckle up for this one, because once you start you won't be able to stop.  It starts a little slow, but by episode 2 you'll be clicking the 'next' button on your remote faster than you can say "epidural!" during labor.  Set in swampy Louisiana, you'll follow a mighty-fine Matthew McConoughey (how did they make him look so YOUNG?) and Woody Harrelson as they hunt down a serial killer.  Its intense, it's wonderfully acted and filmed, and it will give you nightmares (which probably doesn't matter since you aren't sleeping anyways).
12: Grey's Anatomy:  Can you believe they are still making new episodes of this show?  Since you probably watched it a decade ago like the rest of the female population, you may as well catch up on what's been happening the last five years at Grace Memorial.  Overall the show has remained largely unchanged:  there are medical mysteries, miracle cures and procedures, overly ridiculous situations (plane crashes!  rabid animals!  ticking bombs inside human bodies!), and lots of hooking up in the on-call room.  Mindless, juicy plots set against the gorgeous Seattle backdrop.  Watch 11 years worth of it on Netflix, then catch-up real time on Hulu.
13. Sex & The City:  After a glass of wine and a long shower, the next best postpartum pick-me-up is a good dose of Carrie, Miranda, Samantha and Charlotte.  When you need some gal time but are stuck at home, break out the ol' girls club and fade away into the streets of New York City.  While their lives may seem ridiculous to us non-Manhattan mamas, they are dealing with the same issues as us after all: jobs, motherhood, failure, aging, men (and women!) and more.  But they do it with style, bigger pocketbooks and impeccable one-liners.  If you've got Amazon Prime, you can watch all 6 seasons.
————————————-
You'll notice I didn't mention Making a Murderer, because if you haven't seen it by now then you should drop everything and go watch it immediately. There are also a whole host of honorable mentions, including: Grace & Frankie, American Horror Story, Bloodline, Narcos, Teen Mom, Big Love, 16 & Pregnant, Dexter, House of Cards, Shameless, The Americans, Homeland and the Twilight and Harry Potter movies.
If my math and the internet are accurate, then this is nearly two thousand hours of binge-watching pleasure. So settle in with your giant waterbottle and girl scout cookies, whip out those milk machines, kiss the baby and turn on the TV.
Which shows helped you survive those newborn days (or any day where you just needed to veg out!)?